DUMBBELLS OF ALL STYLES
Pumphouse Fitness makes every effort to provide our customers with the very best value possible with any given product. There is a tremendous variation from one manufacturer to another in the quality of the products they bring to the market place. We have selected both York and Gympak as two quality suppliers who got that extra distance to ensure what they supply are the very best possible and suitable for the intended application and they stand behind there products!
Steel Hexagonal Dumbbells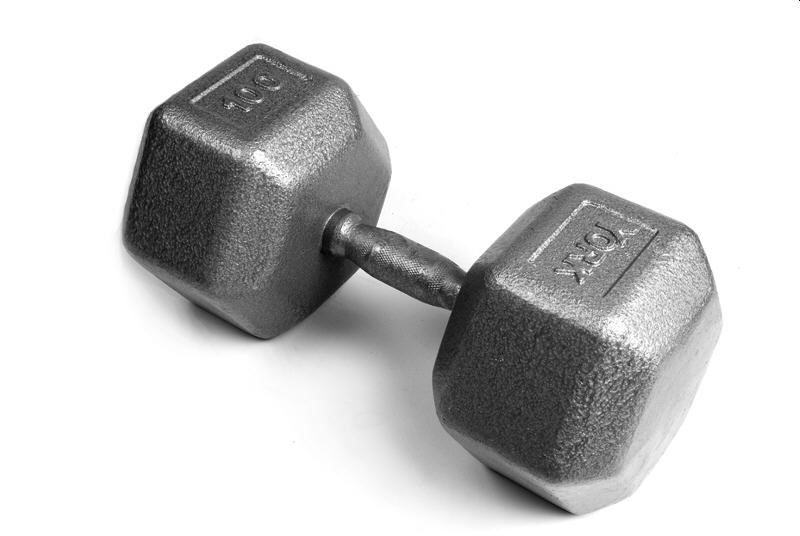 York's Legacy steel dumbbells
Back by popular demand, the "Legacy" dumbbell is a recreation of YORK's Solid Round Dumbbell originally cast in YORK BARBELL's own foundry. The "Legacy" dumbbell features fully knurled, solid steel, thick-grip 33MM handles. The handles are slightly shorter than the original Solid Round Dumbbell decreasing hand travel on the bar allowing greater control and bio-mechanically correct movements.
Handles are hydraulically pressed creating a "fishtail" steel handle end. The handles are then permanently embedded in the heads by pouring molten iron around the fishtailed ends of the thick-grip solid steel shaft.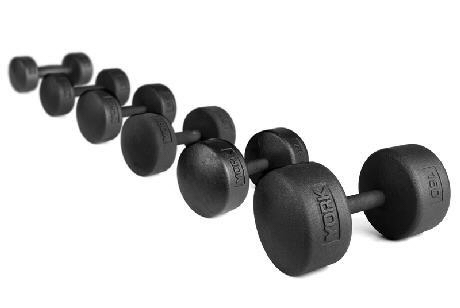 Chromed dumbbells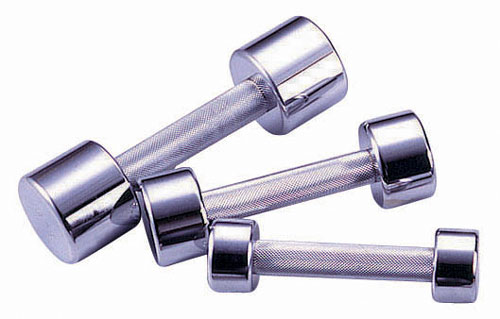 Gympak manufacturers chrome dumbbells that are available with a contoured handle or with the straight handled. The offer these in weight from 1lb,2lb,3lb,5lb,8lb,10lb, 12lb,15lb,----50lbs
York provides a similar product but only with the contoured handles. These highly reflective and attractive dumbbells make a BIG visual impact. The knurled chrome handles are ergonomically contoured to fit comfortably in the user's palm. Smaller handles graduate up from a 25 mm grip to a 35 mm grip for increments 20 lbs through 50 lbs. Solid steel heads ensure maximum adhesion of the bright chrome finish making the dumbbells ultra resistant to chipping, cracking or peeling associated with most iron head versions. The heads are hydraulically pressed onto 35 mm handles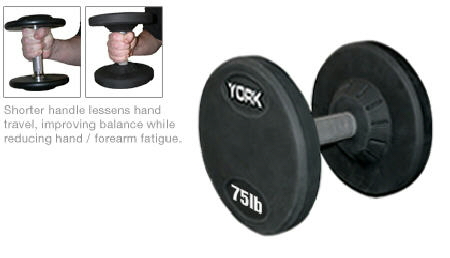 Professional dumbbells are made up using chromed handles (straight or contoured) and the correct number and size of plates. The quality of the handles can vary dramatically. Poor quality case iron handles have many issues but the most problematic issue is the loss or stripping of the treads at each end of the handles. This is most likely a result of the dumbbell being dropped and the impact causes the hardened Alan head bolt to tear the soft treads of the wall of the bolt holes in the handle. Once this occurs, the handle is useless and must be replaced. This can be an expensive proposition.
Both York and Gympak product quality chromed handles that do not have this type of issue. I have replaced a tremendous number of other brands for many disappointed customers
The plates added to the handles can be: simple black painted, grey powder coated, or rubber coated plate. Both of our supplies, York and Gympak supply high quality plates for this application
Professional dumbbells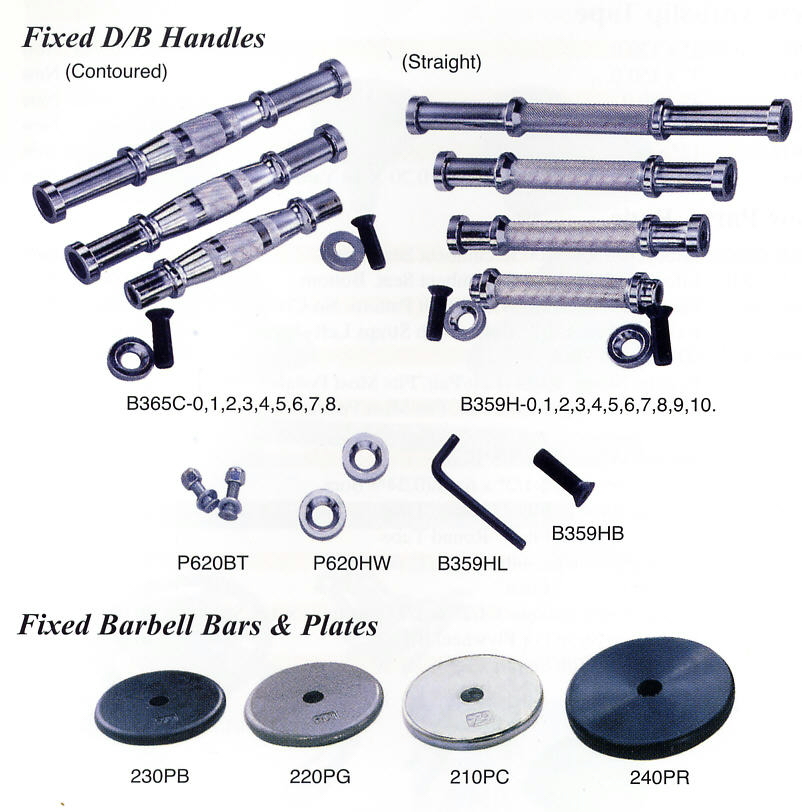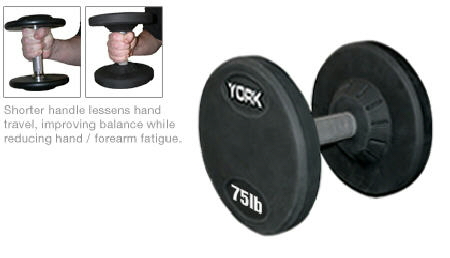 Neoprene Dumbbells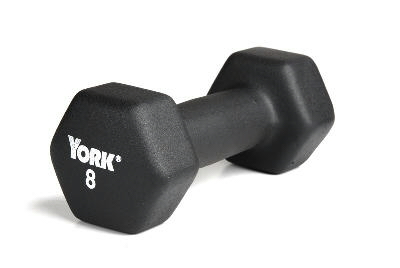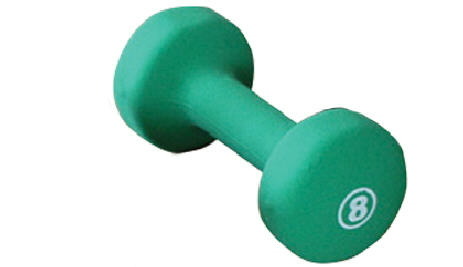 YORK's Neo-Hex Neoprene Fitbells are available with a thick, durable, easy-to-clean neoprene coating. The attractive hexagonal shape is as functional as it is attractive. Dumbbells feature ergonomic handles and flat sides to keep the dumbbells from rolling away. The sizes available include: 1,2,3,4,5,6,7,8,9,10 lbs. These are available in black or multi colored coatings.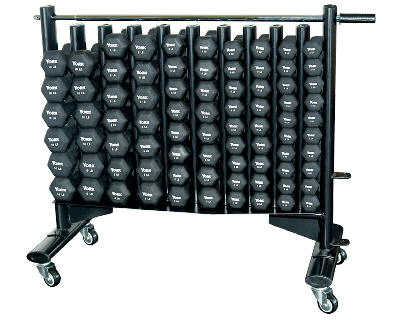 Mileage Adjustable dumbbells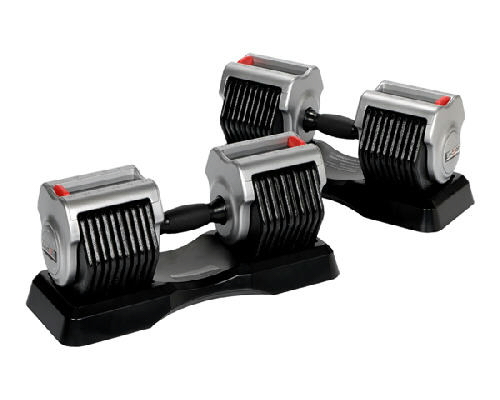 Our patented Slide-N-Lock technology makes it easy to change the weight!
5lb - 55lb Adjustable Dumbbell w/2.5lb Plate Increments
Commercial Grade Cast Iron Plates (not Plastic)
Replaces 11 Sets of Weights!!!
Contoured Comfort Handle
Perform Over 50 Exercises
Slide-N-Lock system makes adjustments Quick and Easy!
Drop tested for durability and safety
It would take 660 lbs of Free Weights to Replace Our Set of Dumbbell's
5,10,15,20,25,30,35,40,45,50,55
Ergonomic Stand for easy removal and storage of dumbbells also available
Medial Grip Rubber Coated Pro Style Dumbbells
A snug-grip improves balance and reduces hand / forearm fatigue. Perhaps one of the most ergonomically correct dumbbells on the market, YORK's Pro Style Dumbbell features a shortened, fully knurled, 33MM solid steel handle resulting in less hand travel and optimum control. Soft, non-metallic shoulders at either end of the bar cradle the hand ensuring a snug grip for improved comfort, balance and reduction in hand fatigue due to over gripping. The dumbbell heads are comprised of solid steel inserts fully encased in virgin rubber. The solid steel handle passes through the steel insert and is welded, permanently joining the head to the handle.
The virgin rubber coating increases durability, protects flooring and equipment, enhances appearance, diminishes noise and is easy to clean.
YORK's Pro Hex Dumbbell is an economy dumbbell with plenty of special features. The softened edges of the dumbbell heads improve paint durability and adhesion by lessening the likelihood of cracking and chipping often experienced with the sharper edge hex heads. The knurled handles are ergonomically contoured to fit comfortably in the user's palm. Handles vary from 30MM grip for increments through 20LB, increasing to a 35MM grip for increments 25LB through 100LB.

Handles are hydraulically pressed creating a "fishtail" steel handle end. The handles are then permanently embedded in the heads by pouring molten iron around the fishtailed ends of a thick 35MM solid steel shaft improving the strength of the head / handle joint.

Standard straight handles are also available.