FUNCTIONAL TRAINER BY INFLIGHT FITNESS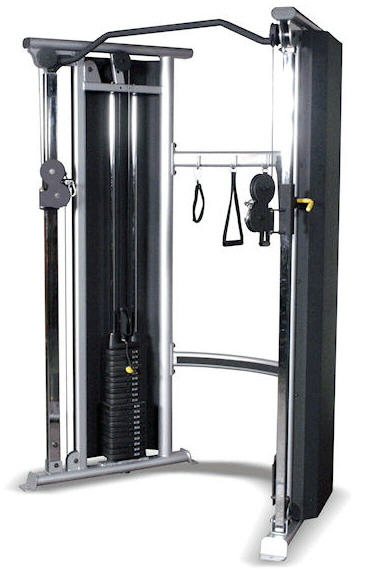 There is no doubt that a functional trainer is the number one item we sell to new and existing fitness facilities.
The above pic illustrates just one of many presses you can perform using this unit. This is being illustrated from
a standing position. Any of the other presses like shoulder press, incline press, and decline press can be performed
with a simple change in the angle of push and/or a change in the height of the pulleys on the cable column.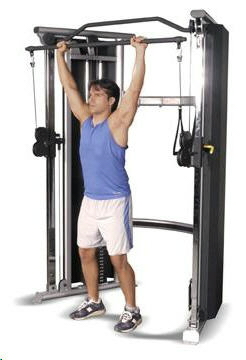 F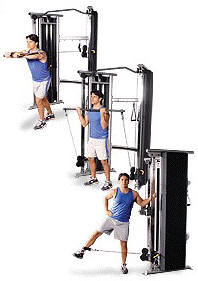 Adding a simple bar to the process allows the user to perform any of the typical exercises that can be
performed with and barbell. Exercises performed on a functional trainer will mimic any exercise and
training results found with free weight workouts. In fact, the training effect may be better with some
exercises as a result of the nature of the resistance. No matter what the position in the range of motion
during a given exercise, the resistance or weights are always moving vertically. This can not be
said for those same exercise when performed with free weights where the resistance varies because
the exercise range of motion is in the form of an arc and gravity's effect is more during vertical aspect of the
arc and much less during the more horizontal aspect of the arc.
T1000
Functional Trainer
62"(W) x 38"(L) x 88"(H)
158cm x 95cm x 222cm
300 lbs. (135 kg)


| | |
| --- | --- |
| | Standard 2:1 cable pull to weight ratio. |
| | Optional 4:1 cable pull kit available. |
| | 24 exercise heights. |
| | Integral step to reach pull-up bar. |