JONES COMMERCIAL SMITH PRESS MODEL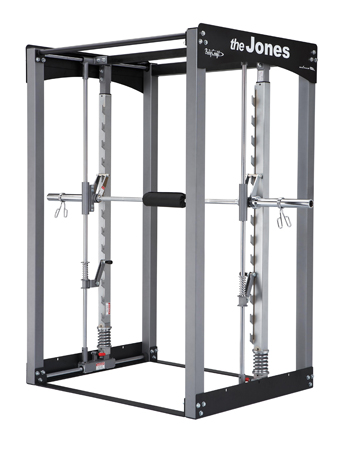 The Next Generation of Smith is the Jones! 3-D Technology Patented* 3-D barbell motion provides for an almost unlimited array of exercises. To view this machine in action please click on the following:

http://www.bodycraft.com/jones_mov.tpl

Features:
Linear bearings

- Top (horizontal), bottom (horizontal), and Bar slides - There are no bushings anywhere on the Jones machine! In fact, there are a total of 16 different industrial-rated bearings on the Jones machine!

This machine is so incredibly smooth, it really does feel as if you are working within a Power Rack, only that the bar hooks and spotters move along with you.
Construction:

- Constructed of 3" X 3", 4mm (10-gauge) thick steel tubing . The bar hooks rest on a heavy-duty spring
Completely Safe for the Solo Lifter

- With a simple twist of the wrist, the weight bar is "racked" into place. Adjustable Safety spotters are included to add that last extra measure of security .
Self-spotting

- The Jones is perfect for the novice or competitive lifter, versatile for males and females, excellent for trainers and coaches, a must for schools and clubs!
Easy Transitions

- Setting up for the next exercise has never been easier! Simply raise or lower the bar to the desired starting position, add the desired weight, and lift!
Pop pin locks

- for traditional smith exercises.
You MUST pick a bar at checkout
Bar Options:
6' Aluminum Bar

- 6' long 25 lb. aluminum bar with 400 lb. capacity provides a lighter starting weight for more versatile training. The shorter length saves space!
7' Power Bar

- 7' long, 45 lb. power bar with 1000 lb. capacity provides the most common starting weight for the heavy lifter!
Warranty:
Home Use: Warranted for lifetime for in-home setting, original user.
Commercial Use: Warranted for two years, all parts in a Full commercial setting.
Dimensions: 83.07" Tall x 81.34" wide x 42.13" deep (58.63" with lat attachment).